Resources
B2RLaw named Venture Capital Legal Advisor of the Year at the PSIK Awards 2021
14/06/2021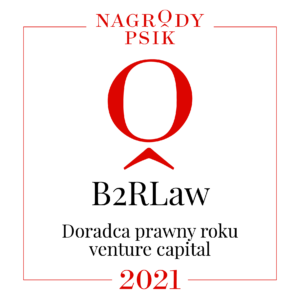 B2RLaw is celebrating after being awarded Venture Capital Legal Advisor of the Year at the Polish Private Equity and Venture Capital Association (PSIK) Awards 2021.
The aim of the PSIK Awards is to recognize private equity and venture capital funds managers, advisors, banks and law firms for their achievements on the Polish PE and VC market and venture philanthropy initiatives. From its first edition in 2018, the PSIK Awards has promoted the highest professional standards in the PE and VC industry and PE and VC investors' contribution to the growth of Polish companies.
Candidates for the awards are proposed by PSIK members. A panel of independent judges select finalists, and the winners are chosen by the PSIK community in an online popular vote. Due to the COVID pandemic, this year's awards took place online.
The PSIK Awards are organized by the Polish Private Equity and Venture Capital Association (PSIK). Since 2002 PSIK has represented the interests of the Polish PE and VC community including supporting its development. PSIK members include representatives of PE and VC fund managers active in Poland as well as law firms, banks and advisors active on the PE and VC market.
Senior Partner Rafał Stroiński, who leads the Corporate Practice Group, comments, "The PSIK awards are the recognition you want to get if you're into Private Equity/Venture Capital deals in this part of the world, not least because the Polish Private Equity and Venture Capital Association groups together an extremely respectable and demanding jury and audience. We were thrilled to have been nominated, being up against tough competition from Poland's best law firms. I must say that the moment when I realized that B2RLaw had actually won and my mobile phone started going red with congratulations on having received the award itself was one I will cherish for long. I was truly moved and excited – receiving a PSIK award is the next best thing to getting an Oscar.
It's incredibly humbling to win this award, and it's a massive recognition for everyone at B2Rlaw, their hard work and cutting-edge expertise, and testament that we are truly delivering on our ambitious strategy of becoming the leading Polish/CEE law firm in respect to transactions in the PE/VC and wider technology sector. The timing of the award is perfect given that this month we are celebrating our first year anniversary as B2RLaw. What a birthday present!"
Source: www.nagrodypsik.pl