Resources
B2RLaw advises on international multimillion dollar investment company merger
21/08/2020
In a deal announced August 10th, B2RLaw is advising Barings BDC, Inc. in its merger with MVC Capital, Inc. The combined company, which will remain externally managed by Barings LLC, is expected to have more than $1.2 billion of investments on a pro forma basis.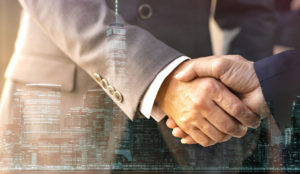 The boards of directors of both companies, the MVC Capital Strategic Review Committee, the independent directors of MVC Capital and the independent directors of Barings BDC have unanimously approved the transaction, which is expected to close in the fourth quarter of 2020.
Barings BDC, Inc. is a publicly traded, externally managed investment company. MVC Capital (MVC) is a business development company traded on the New York Stock Exchange that provides long-term debt and equity investment capital to fund growth, acquisitions and recapitalizations of companies in a variety of industries. Barings LLC, is a leading global asset manager based in Charlotte, NC with over $346 billion of AUM firm-wide.
B2RLaw has worked closely with lead counsel Dechert LLP in the US, and has advised on all Polish aspects of the transaction as well as coordinated counsel in Lithuania and Latvia.
B2RLaw's team is led by Partner dr Szymon Syp with support from Partner George Havaris, and B2R's team consisting of Senior Associate Iga Wojtczak-Opala, Associate Joanna Markowicz and Junior Associates Jakub Niemiec and Tomasz Michalczyk.
Szymon Syp states, "We congratulate Barings BDC, MVC Capital and Barings LLC on this transaction which gives the merged investment company global scale. This deal is one of the first transactions that we have worked on as a combined B2R team to the great satisfaction of our client, and is a clear indication that the team is fully integrated and functioning very well. This transaction also demonstrates our ability in coordinating various jurisdictions."