Resources
B2RLaw one of only 6 law firms in Poland recognized by Legal 500 in its Green Guide EMEA 2023
04/04/2023
We are pleased to announce that B2RLaw has been inducted into the 2023 second edition of Legal 500's Europe, Middle East and Africa Green Guide!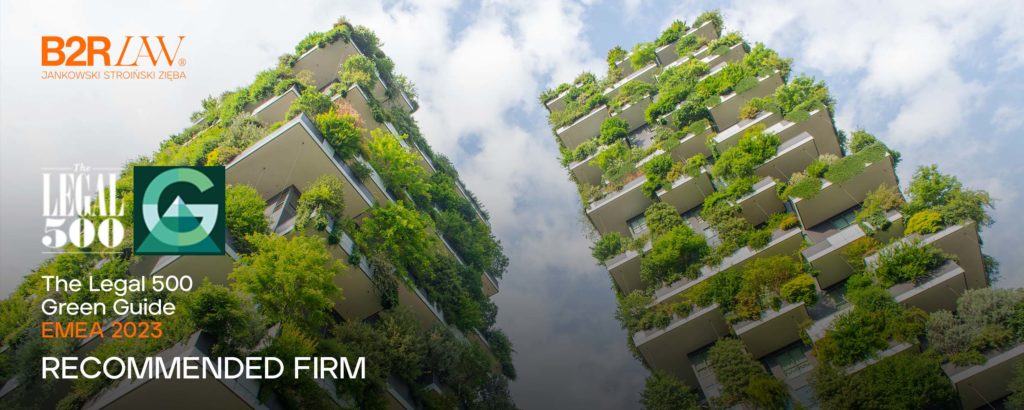 The Legal 500's Global Green Guide is the first worldwide guide to the top law firms advising on issues around climate change, governance, and sustainability, with the editorial highlighting the leading practices and individuals in each jurisdiction, recognizing a firm's contribution to 'Green Change' and ESG. The guide will see The Legal 500 go around the world and put a global perspective on law firms that are key players in this field, i.e. firms that are in one way or another contributing to a "green transition".
Anna Baubock – The Legal 500 Green Guide Editor advises, "The advanced political ESG agenda in Europe has meant that ESG has become a set part of law firms' business across the region with ESG work spanning a host of practice areas, and many players realising they need to look inward too and complement their external practice with internal sustainability measures and initiatives. We hope you find this initial guide to some of the key firms engaging with sustainability within the EMEA region useful, and look forward to continually evolving our coverage as the market develops".
Aleksandra Polak who leads B2R's ESG practice adds, "ESG's impact on construction, production, financing, valuation, investment or supply chain will only continue to grow. All industries will be affected but may also benefit from the green transformation. That is why ESG should be an element of each and every legal practice group. ESG, sustainability, and climate change-related work is a rapidly growing part of B2RLaw's service offering as well as our business strategy. We understand that firms' sustainability credentials will continue to gain in importance and we are very pleased with this award".