Resources
Is Poland Up to the Task on Ukraine? Three Arguments For and Against
03/10/2022
On whether Poland will be able to live up to its ambition of becoming a defense sector and Ukraine reconstruction hub, as NATO and EU countries remain focused on assisting Ukraine in fending off Russian aggression.
Find more about our Aerospace, Defence & Security Practice here. The rest of the article below.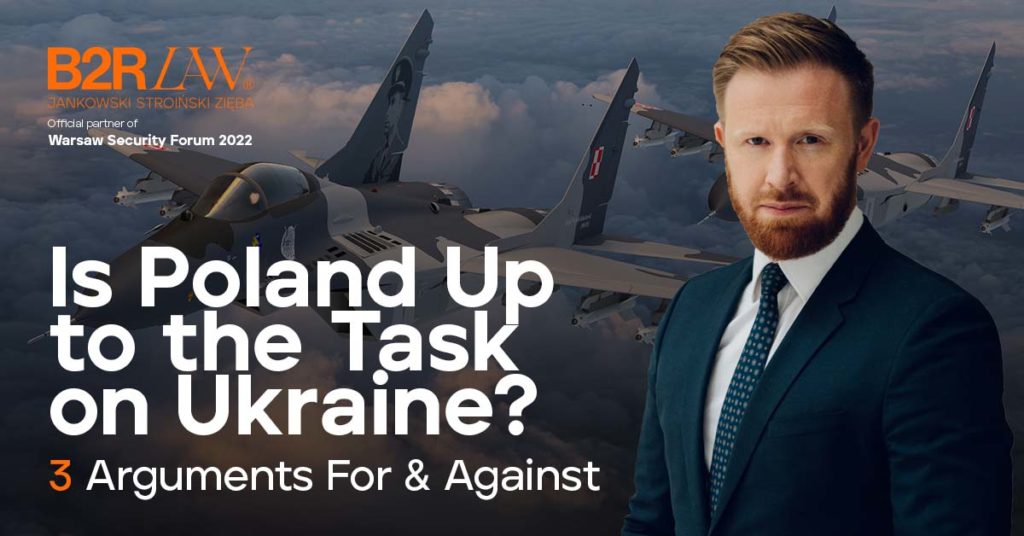 As we have turned the page on the well-attended MSPO Defence Industry Exhibition in Kielce, Poland on 6-9 September 2022 and are now focusing our attention on the Warsaw Security Forum that will be held on 4-5 October 2022, this piece aims to take a step back, provide a high level summary of key factors concerning the topic in question, so as to potentially spark discussion about Poland's true significance in the region, in particular, in helping to resolve an armed conflict that has been raging on for the last seven months.
Poland has always had the ambition of being a Central and Eastern European leader. The war in Ukraine and Poland's admirable support of its neighbor and of the over a million Ukrainians that have sought refuge here, has placed Poland in the spotlight of international efforts pertaining to providing Ukraine with much-needed military assistance and then seeking to help rebuild this war-torn country. The question remains whether a political resolution to the war and the rebuilding of Ukraine will, in fact, be decided upon in other European and North American capitals without Warsaw's substantial involvement.
Let us consider the following three strengths and weaknesses, when it comes to Poland's ability to play a role in the resolution of this armed conflict and, subsequently, in the rebuilding of Ukraine.
Three arguments in Poland's favor:
1. Relationship with Ukraine
Despite some historical resentment between the Ukrainian and Polish people, as well as difficult chapters in their mutual history stemming not just from the Second World War, but going all the way back to the brink of statehood, Ukraine and Poland have enjoyed a steadfast relationship over the recent decades. Any differences have been set aside in light of a mutual threat to Ukraine and Poland from the Putin-led Russian Federation, along the notion that the enemy of your enemy remains your friend.
Poland has been on the forefront of supporting Ukraine from the 2004/05 Orange Revolution, through the intense events of 2014: the Revolution of Dignity, Ukraine's partnership agreement with the EU and Russia's illegal annexation of Crimea and part of the Donbas, and up until this year's Russian full out invasion of its neighbor.
2. Focus on Strategic Partnerships with the US and NATO
Ever since the peaceful democratic revolution of 1989, obtaining membership in NATO in 1999 and joining the EU in 2004, Poland has overall been a reliable partner for the Western powers and has steadily increased the efficacy of its CEE strategic efforts.
Though Poland's relationship with the EU has been rocky of late and it depends greatly on the political faction in power in Warsaw, conversely, the bond with the US has been unwavering over the decades, especially on the strategic and defense sector fronts. Poland has been Washington's staunch ally ever since Desert Storm. Much to the angst of some of the other Western European capitals, Poland fully supported the Global War on Terrorism and sent its troops into Iraq and Afghanistan.
An increase of Poland's ambition and role within NATO structures has been demonstrated by significant modern arms purchases, noteworthy aerospace and defence company investments in Poland over the years, the establishment of the NATO Joint Force Training Centre in Bydgoszcz, Poland and, finally, unprecedented presence of US and NATO forces in Poland along with the US President Joe Biden declaring in June 2022 the establishment of a permanent base.
3. Stable Social Support for Ukraine in Poland
Russia's invasion of Ukraine in late February 2022 has resulted in an unprecedented exodus of Ukrainians to neighboring countries. Out of the millions that have fled Ukraine from when the war broke out, a significant part – some 1.2 million – have found safe haven in Poland.
Poland is by far the largest EU country and economy neighboring Ukraine – population of 38.2 million, GDP of USD 699.5 billion and a 535 km shared boarder with Ukraine. Moreover, Poland remained the natural destination for Ukrainians given the over 1 million economic immigrants from Ukraine that were already present in Poland before 2022.
Poles have been proud of the international praise that their country has received for giving shelter to so many displaced Ukrainians. It is worth pointing out that the brunt of the effort came from citizens themselves and local communities, and not necessarily from the central government.
Concerns have been voiced over whether such a significant influx of foreigners will not awaken anti-immigrant resentments in Poland, especially in light of Poles demonstrating a negative approach to refugees during the Syrian refugee crisis in 2015. Though the Polish nationalistic far-right does regurgitate anti-Ukrainian social media propaganda, likely Kremlin-financed, thankfully, the vast majority of the Polish populace seems immune to this. The question is: will this positive approach to Ukrainian expats endure and for how long?
Three arguments detrimental to Poland:
1. Conflict with the EU and concern over the Rule of Law
Ever since the current right-wing government had come to power in 2015 and has embarked on an ongoing revolutionary conflict with Polish judicial institutions, as well as with the free and independent media, Poland has plummeted in democracy and freedom of press indices, similarly to some degree as is the case in Hungary.
Poland has become EU's pariah, ever since EU institutions had no choice, but to instigate a number of legal actions against Poland for not adhering to the Rule of Law, among them being, the Article 7(1) TEU procedure – an infamous first in EU history.
Despite the war in Ukraine, when one would think that EU solidarity should be at a premium, the Polish PiS government has doubled down in its anti-EU stance by once again defying EU judgments and decisions and continuing its controversial reform of the judiciary. This resulted in the EUR 35 billion COVID-19 recovery grants and loans dedicated to Poland being frozen, thus further jeopardizing Poland's outlook for growth.
Those in the current Polish government who were hoping that the war in Ukraine would result in the EU and the US emphasizing security and military matters to a greater degree, thus potentially turning a blind eye to Poland's transgressions on matters of democracy and the Rule of Law, experienced a rude awakening when the US President Joe Biden continued to wag his finger in this respect during his high profile speech in Warsaw in June of this year.
This anti-democratic slide and, even more so, the recent crackdown on women's reproductive rights and aggressive anti-LGBTQ propaganda, results in Poland having more similarities to Kremlin ideological politics than to the EU mainstream. In this sense, Poland should not serve as an example for Ukraine and their European aspirations.
2. Precarious Relationship with Germany
In a monumental speech in late February 2022, German Chancellor Olaf Scholz outlined a fundamental change to his country's military spending doctrine and policy towards Russia. In particular, Germany plans on investing EUR 100 billion in modernizing its armed forces in order to face a new geopolitical threat from the East.
An objective observer would see this development as an extraordinary chance for realignment between Berlin and Warsaw, as well as a formidable opportunity for German and Polish defence sector companies to intensify cooperation. Poland has previously been critical of Germany for allegedly not doing enough to support Ukraine and questioned their loyalty over business ties with Moscow – the Nord Stream Baltic gas pipelines being a prime example of this. Now, European unity with a focus on German and Polish cooperation would seem to be the best bet in countering Russia's neo-imperial ambitions.
Unfortunately, the current Polish government has not come to appreciate this ample opportunity for a reset. Conversely, Warsaw has recently elected to revisit the fruitless topic of alleged Polish reparation claims against Germany for Second World War destruction. Though such a move was primarily done for internal political purposes, as the PiS government is seeing a drop in its poll numbers and it is attempting to rally its base, this cannot be conducive to strengthening the relationship over the Oder river and will undoubtedly lead to distrust on both sides.
3. Polish-Russian Mistrust and Past History
To say that Polish-Russian relations have been tense would be an understatement. The two countries have vastly apposing strategic priorities. What is more, Putin's unrealistic goal of restoring a Soviet-time sphere of influence makes it impossible for Russia to treat Poland as any equal partner.
Russia is not the only side that should take the blame for such a state of affairs. Unfortunately, the current Polish government has added fuel to the fire by irrationally promoting a debunked conspiracy theory that has Russia being the culprit behind the 2010 Smoleńsk air disaster that killed 96 passengers, including the then Polish President and top civilian and military brass. Both the Polish and Russian official investigations, as well as the international aviation community clearly determined that the airplane crashed ultimately as a result of the pilots' errors and not due to any foul play.
Despite playing a key role in Ukrainian international efforts for well over a decade, Poland was not a party to the Normandy Format that led to the signing of the Mińsk Agreements. When it comes to Ukraine, France and Germany are the more significant players that have enough clout to get Moscow to the negotiation table, whereas Poland is still not able to punch above its weight.
Summary:
By virtue of sheer geography, size, political resolve, the relationship between the peoples and the significant number of Ukrainians that have found refuge in Польща, Poland inherently has a key role to play in all matters pertaining to Ukraine, be it political, in the defence industry space or in rebuilding Ukraine.
However, Poland is not living up to its potential. Its conflict with the EU and the tensions with Germany result in Poland not being a reliable partner, especially in any effort of bringing Ukraine closer into the European fold. If Poland truly wants to live up to its own ambitious views on its key regional role, Poland must immediately abandon its futile anti-EU politics, be it either in the form of a tectonic shift in the current government's approach or through the Polish people heading to the polls en masse in order to elect a more pro-Western government.
Contact us
Advocate, Partner
Head of the Commercial Law Practice Group