Resources
A Discussion on Venture Debt
17/11/2021
For emerging companies, gaining access to financial resources can be a challenge. Traditional bank loans are often unavailable, and the financial means of the founders are usually limited.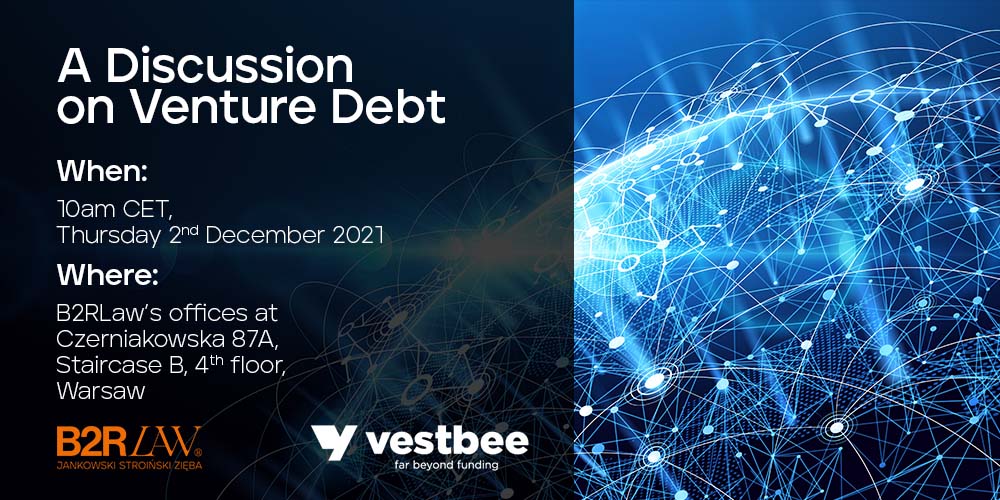 Venture Debt is a potentially attractive complement to equity financings for business startups that already have strong investors on board. It is a highly flexible instrument with very little dilutive impact on founders and existing investors. Venture Debt is already widely available and used by emerging companies in the US, Western Europe and further afield, whereas the product is in its infancy in respect to the Polish/CEE market.
Brought to you by B2RLaw and in partnership with Vestbee, with leading international speakers on the subject, A discussion on Venture Debt will examine:
+  What is Venture Debt?
+  The market of Venture Debt and how its use has grown.
+  When can a company turn to Venture Debt?
+  The use of Venture Debt in practice and its mechanics.
+  A real example of Venture Debt in use in a Polish founded company.
+  How Venture Debt applies to the Polish market and its legal framework.
When:
10am CET, Thursday 2nd December 2021
Where:
B2RLaw's offices at Czerniakowska 87A, Staircase B, 4th floor. This is an in-person event.*
*Some speakers shall discuss/present remotely.
Speakers
Hemal Raval
Principle
Claret Capital
Jason Georgatos
President
Partners for Growth
Alasdair McKenzie
Partner
Gowling WLG
Peter Bialo
CFO, Board Member
DocPlanner
George Havaris
Partner
B2RLaw
Filip Badziak
Counsel
B2RLaw
Radosław Nguyen
Senior Associate
B2RLaw
Registration Form