Resources
B2RLaw advised White Star Real Estate on the sale of a group of companies from the short-term lease market sector to Renters.pl
27/09/2023
B2RLaw advised White Star Real Estate on the sale of a group of companies from the short-term lease market sector to Renters.pl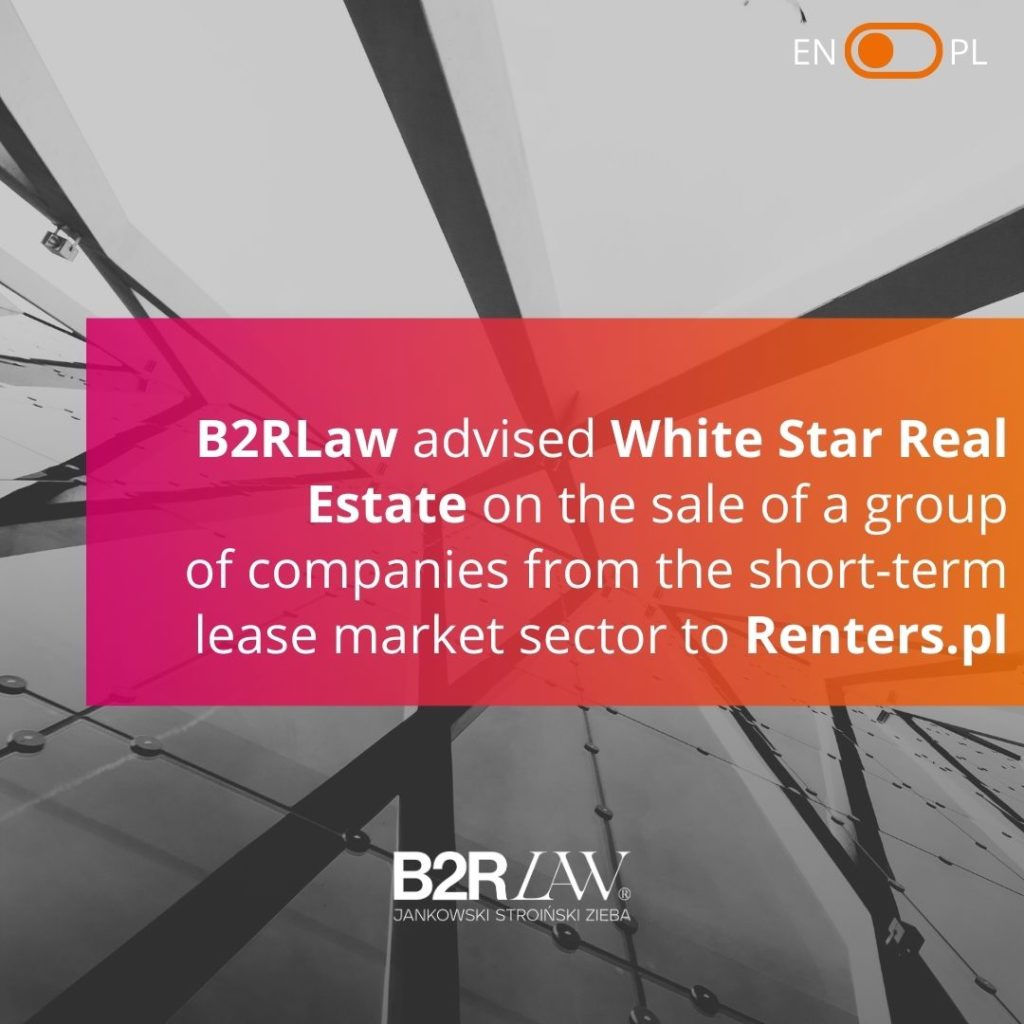 White Star Real Estate is focused on providing real estate solutions for development clients and management investors. From sourcing and developing real estate opportunities to implementing asset and property management solutions, they are an integrated real estate group serving CEE region. White Star has built over 50 projects since 1997. Their portfolio includes landmark office buildings, warehouses, logistics parks, build-to-suit (BTS) manufacturing facilities and other industrial projects, retail, leisure, and mixed-use concepts, residential/master-planned developments.
The part of the group engaged in comprehensive short-term rental management since 2016 was included in the sale transaction. It provides real estate owners with support in the development and security of running their business, being the exclusive or recommended rental operator of 9 investments, manages over 700 apartments in Zakopane, Warsaw, Wrocław, Poznań, Gdańsk, Kołobrzeg and Międzyzdroje. They take care of both individual apartments and houses, as well as entire facilities. The group was acquired by a major industry player, Renters.pl, whose majority shareholder since March 2023 has been Enterprise Investors.
B2RLaw's services included, above all, multilateral, multifaceted and complex negotiations between groups of industry investors, which ended successfully in the form of closing the transaction.
The B2RLaw team was led by Managing Partner Rafał Stroiński (Advocate) and Partner Agnieszka Hajos-Iwańska (Advocate) and included: Jakub Kutyła (Advocate, Counsel), Konrad Czernecki (Associate), Barbara Tchórzewska (Junior Associate).
Agnieszka Hajos-Iwańska advises, "Negotiation success on this transaction demonstrates that real estate assets of the highest quality, with high-class tenants and which are professionally managed, will continue to enjoy interest and, consequently, generate transactions among key institutional investors. We congratulate the parties on this transaction and thank the sellers for entrusting us."