Resources
B2RLaw advises Vestas on the acquisition of the ST3 Offshore for over PLN 170 million
10/10/2023
B2RLaw advises Vestas on the acquisition of the ST3 Offshore for over PLN 170 million.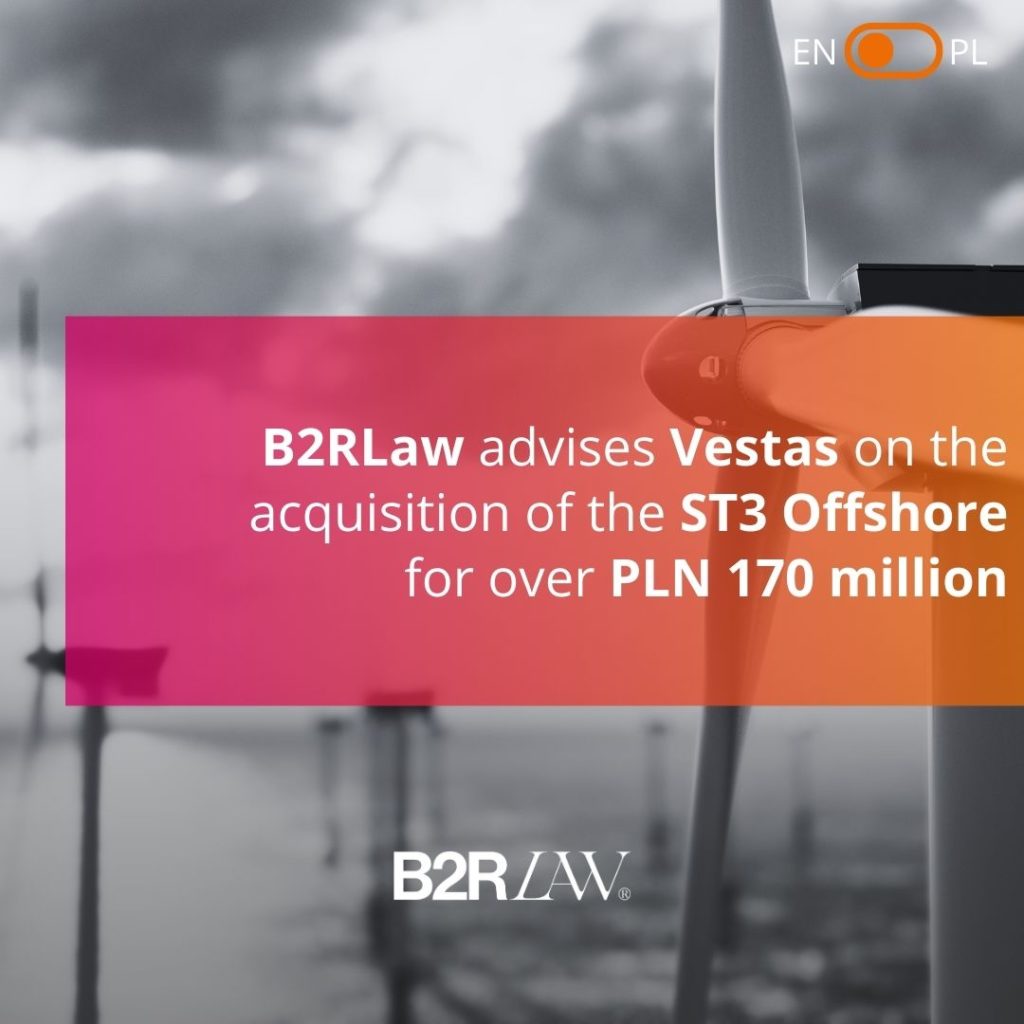 Vestas, the Danish global giant in the wind turbine market, has just signed an agreement to purchase ST3 Offshore – the Szczecin factory. This enterprise forms the basis for the establishment of a factory for components for offshore wind farms in Szczecin. The factory will create hundreds jobs in Szczecin and several thousand more indirectly. It is expected to meet domestic and global demand for offshore wind energy and thus play a key role in achieving Poland's energy transition goals, aiming to maximise offshore wind energy potential with a total capacity of up to 18 GW by 2040.
This is another step in the development of the offshore sector in Poland. The acquisition of ST3 Offshore, bankrupt in 2020, was made in the 6th tender for its sale. B2RLaw advised on all legal aspects related to the acquisition of the bankrupt company, including obtaining ministerial approval for the acquisition (this process, due to its complexity, took more than six months).
The B2RLaw team was led by Andrzej Zając (Advocate, Partner, Head of the Energy and Real Estate Practice), with the support of Bogdan Duda (Attorney-at-law, Partner) and Konrad Czernecki (Attorney at Law Trainee, Associate).
Andrzej Zając, Advocate, Partner, Head of the Energy and Real Estate Practice at B2RLaw advises: "Vestas is a leading supplier to the Polish onshore wind energy market and has been present in Poland for many years. When Poland is particularly turning its attention to offshore wind energy and offshore is seen as a key solution to current national and global energy challenges, it is great to see our client as a leader once again, playing a key role in the Polish energy market. We would like to thank the Vestas team for entrusting us to advise on this key and challenging project and we look forward to its completion."
Rafał Stroiński, Advocate, Managing Partner at B2RLaw adds, "It is a great honour to support a client like Vestas on this transaction. The Danish wind turbine manufacturer is becoming the leader of the Polish offshore market, creating an environment for its development also for other players. Vestas is creating the conditions for the development of our country as a European offshore leader, while contributing to the energy security of our country and region. B2RLaw's involvement in this project is another milestone in strengthening our position as a leader in legal services for the offshore sector in Poland."