Resources
B2RLaw advised Everfield UK Limited in the acquisition of 100% of the shares of a Polish start-up – Grafik Optymalny
16/10/2023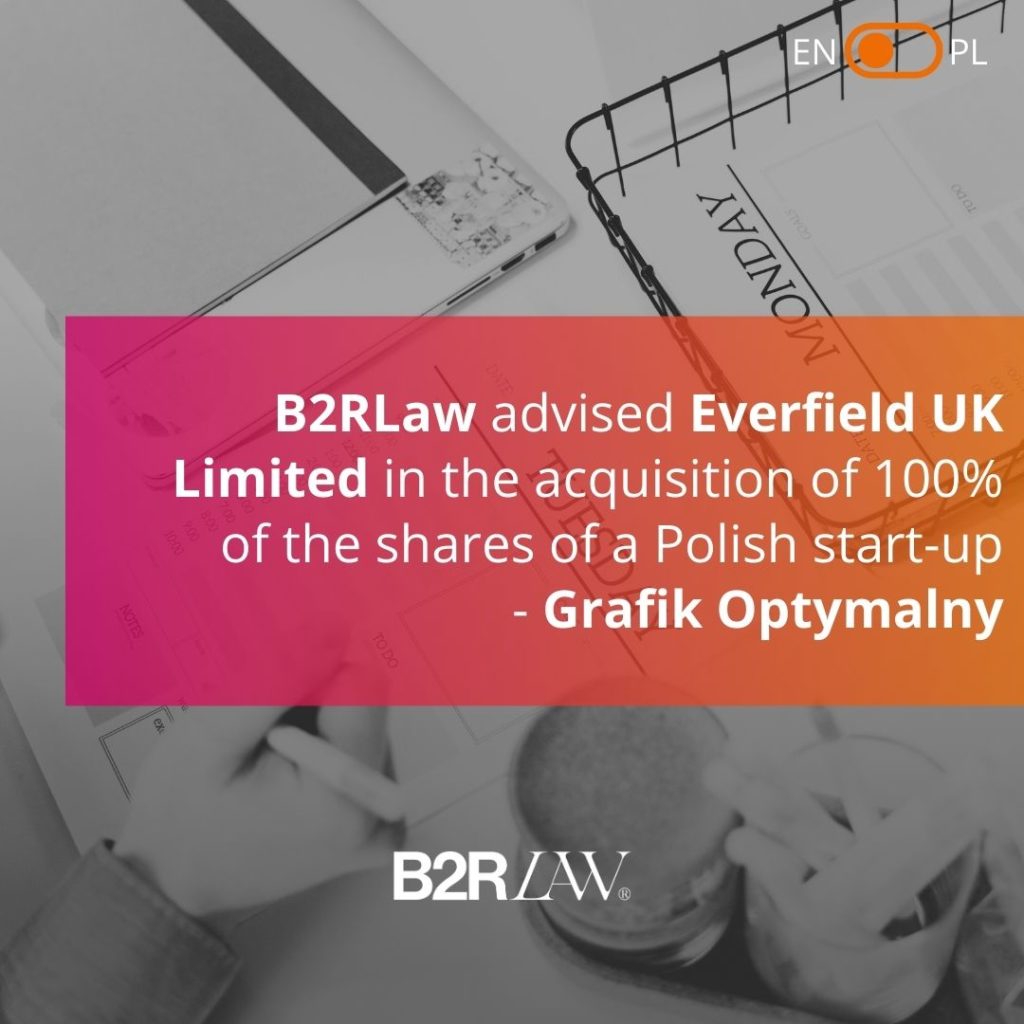 Everfield is an international IT group that invests in companies with specialized software that solves operational problems for businesses. They provide capital support, assistance in developing offerings, and opportunities for international expansion.
Everfield's portfolio includes Germany-based SoCom, which has been operating for three decades and offers an ERP system for the textile industry, and Latvia-based AGroup, which provides HR software for corporate payroll. Everfield has recently made its inaugural investment in the Polish market, taking full control of Grafik Optymalny, and acquiring 100% of its shares, thus expanding its portfolio with another HR product.
Grafik Optymalny is a start-up founded in 2014, offering a system that automates work time scheduling using artificial intelligence (AI). The platform optimizes HR costs and simplifies scheduling through a cloud-based solution offered in a SaaS model. Grafik Optymalny streamlines and digitizes the full range of HR processes, such as time and attendance, leave management, and remote work coordination. The platform is utilized by hundreds of companies across various industries.
The company's founders, Karolina Dolaś and Grzegorz Galos, will retain their current roles and continue to lead the company's development, leveraging Everfield's support, resources, and know-how.
B2RLaw's advice included conducting due diligence on the acquired company, followed by negotiating an agreement covering the purchase of 100% of its share capital, and drafting all other transaction documents.
Everfield UK Limited was represented by a transaction team led by Rafał Stroiński (Advocate, Managing Partner) in close cooperation with Bogdan Duda (Attorney-at-law, Partner). The team consisted of Paulina Wyrostek (Attorney-at-law, Counsel), Magdalena Borychowska (Advocate Trainee, Junior Associate) and Magdalena Kułakowska (Junior Associate).