Resources
B2RLaw as Legal Partner at Warsaw Security Forum 2023
04/10/2023
The Warsaw Security Forum ("WSF") is one of the leading European conferences dedicated to transatlantic cooperation and focusing on developing shared responses to common challenges, with an emphasis on the security of Central and Eastern Europe.
B2Rlaw is honored to once again support the event as a Legal Partner, especially for the 10th anniversary edition.
Since its inception, the Warsw Security Forum is organized by the Casimir Pulaski Foundation, in strategic partnership with NATO and the National Security Bureau to the President of the Rupublic of Poland. The 10th anniversary edition of WSF welcomes over 2000 participants, 200 speakers from more than 90 countries, including Presidents, Prime Ministers, more than 30 Ministers of Foreign Affairs, Defence, and Energy, Members of Parliament, as well as NATO, EU and OSCE delegations.
B2Rlaw is represented by:
+ Rafał Stroiński – Advocate, Managing Partner
+ Bartłomiej Jankowski – Advocate, Managing Partner
+ Roman Iwański – Advocate, Partner
+ George Havaris – Solicitor, Partner
+ Julia Stroińska – Junior Associate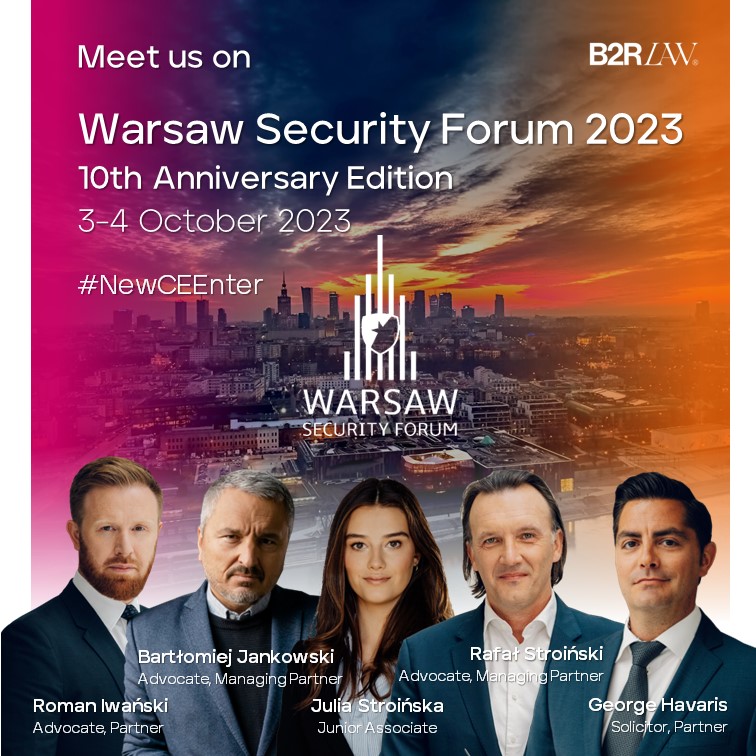 More about the Warsaw Security Forum here.