Resources
B2RLaw recommended in the Legal 500 EMEA ranking 2023
13/04/2023
We are proud to announce that in this year's edition of The Legal 500 we have been recommended in 6 categories and 12 lawyers are recommended, including Bartłomiej Jankowski listed in the elite "Leading Individuals" group and Andrzej Zając listed in the "Next Generation Partners" group.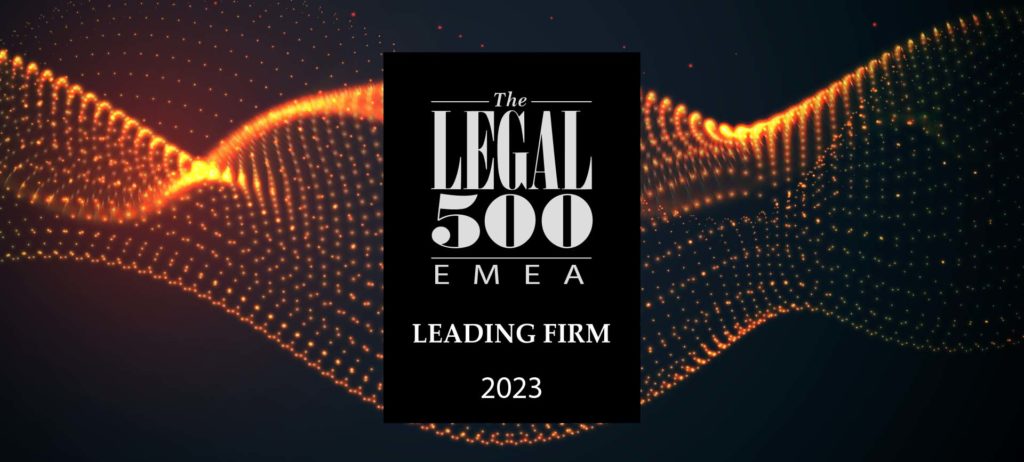 Ranking by practice:
Construction – Tier 3
The construction team at B2R Law supports public authorities, municipalities and private businesses throughout the lifecycle of projects involving transport, power and urban regeneration. Its work ranges from advising on the drafting of tender and project documentation to representing clients in dispute proceedings with subcontractors, employers, and public bodies. Kraków-based public procurement specialist Paweł Gunia leads the team alongside senior partner Rafał Zieba, who is based in Warsaw. Another key group member is of counsel and real estate lawyer Krzysztof Marzyński.
Dispute Resolution – Tier 4
Under the guidance of founding partner Bartlomiej Jankowski, the 'problem solvers' at B2R Law handle a wide range of disputes – spanning corporate and commercial litigation, arbitration, criminal law and investigations – on behalf of long-standing local and international clients. Human rights cases are a niche specialism; a recent highlight involves representing a private individual following their unjustified detention during a protest against LGBT discrimination in Poland.
'The team is very organised and focused on business needs. Problem solvers.'
'High level focus and great at the details. Always bring desired deliverables.'
Employment – Firms to watch
Established in 2020, the employment team demonstrates particular expertise in assisting clients with their entry into the Polish market. Anna Cichonska and Roman Iwański jointly lead the practice.
Private Equity – Tier 3
B2R Law is best known for assisting with technology-related deals across Poland and the wider CEE region, and has a successful recent track record operating in the area of convergence between venture capital and private equity investments. Away from transactional work, the firm is also very active in the fund formation space. Rafał Stroiński – whose client base spans buyers, sellers and targets – heads up the practice.
'Very good understanding of clients' goals.'
'Rafał Stroiński has an adaptive approach which allows for quick and effective work.'
'Insightful and helpful. Very good understanding of legal and business matters.'
'Aleksandra Polak and Rafał Stroiński are both are very good lawyers who I can recommenend to others.'
Real Estate – Tier 3
B2R Law's real estate practice utilises the strengths of the firm's corporate, finance, tax, and risk management groups to broaden its offering and advise on commercial real estate transactions. Of recent note is its work assisting new entrants to the Polish market. The group is led by co-founder Rafal Zieba. Other key team members include counsel Agnieszka Wojciechowska, who predominately acts for REITs, real estate funds, private equity funds, and developers, and Andrzej Zając, who acts on both the buy and sell side of transactions.
'Good experience, availability, knowledge, and business attitude.'
'Filip Badziak is willing to go the extra mile to make sure the client's interests are put first.'
White-Collar Crime – Tier 2
B2R Law is particularly active in criminal litigation, especially cases involving allegations of fraud. The business criminal litigation team is led by co-founder of the firm and arbitrator Bartłomiej Jankowski; he has significant experience advising clients on the liability of members of commercial companies, as well as on anti-corruption issues concerning international companies.
'The team is super cooperative, fast-learning, and very objective. They are pro-active in learning and keeping up with the needs of the case.'
'They are able to look beyond the case file and expand their horizons to a global, industry-wide perspective, integrating the intricacies of the world's political and economic situation, while making accurate judgements about the progress of the case.'
'Bartłomiej Jankowski and his team are able to persevere when cases are in an extremely desperate situation. Their optimism and objective analysis gives not only trust and hope to the client, but also a sense of humanity that encourages the client and the legal team to work actively together to make things better.'
 Banking and Finance – Tier 6
B2R Law fields a team of corporate and banking experts, with extensive experience advising on cross-border M&A and financing deals, including secured and unsecured investment grade, leveraged, emerging market and debt transactions. Deals with a real estate element are a particular area of strength. George Havaris jointly heads up the practice with newly-promoted partner Filip Badziak.
'Very professional, focused, experienced.'
'Extremely client oriented.'
Ranking by lawyers:
White-collar crime
Leading individual: Bartłomiej Jankowski
Recommended: Bartłomiej Jankowski
Other key lawyer: Edyta Zalewska
Construction
Recommended: Rafał Zięba, Paweł Gunia, Krzysztof Marzyński
Other key lawyer: Jacek Mizgier
Private Equity
Recommended: Rafał Stroiński
Other key lawyers: Aleksandra Polak, Agnieszka Hajos-Iwańska, George Havaris
Real estate
Next Generation Partner: Andrzej Zając
Recommended: Rafał Zięba, Agnieszka Wojciechowska, Andrzej Zając
Other key lawyers: Filip Badziak, Krzysztof Marzyński
Dispute Resolution
Recommended: Bartłomiej Jankowski
Other key lawyers: Roman Iwański, Edyta Zalewska
Banking & Finance
Recommended: Filip Badziak, George Havaris
Employment
Other key lawyers: Anna Cichońska, Roman Iwański