Resources
B2RLaw advised Sprout Social Inc. USD 140M acquisition of Tagger Media Inc.
11/09/2023
B2RLaw advised Sprout Social Inc. on its USD 140M acquisition of Tagger Media Inc. and key software developed by Tagger's Polish IT hub.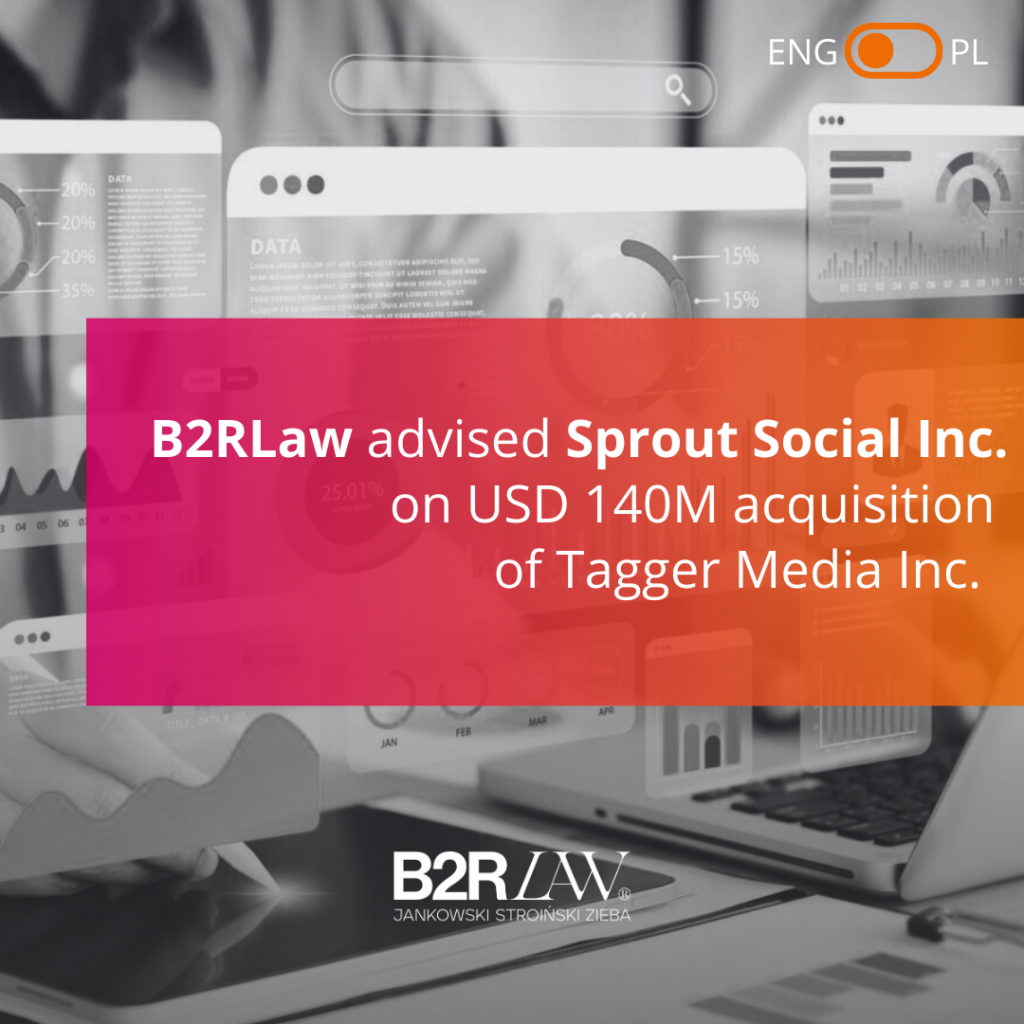 Sprout Social is a global leader in social media management and analytics software. Their unified platform puts powerful social data into the hands of more than 34,000 brands so they can make strategic decisions that drive business growth and innovation. With a full suite of social media management solutions, Sprout offers comprehensive publishing and engagement functionality, customer care, connected and automated workflows and AI-powered business intelligence. Its award-winning software operates across all major social media networks and digital platforms.
Sprout's unified social media management platform enables to extract real business value, strengthen market position and drive revenue quickly. Sprout builds and maintains strong network partnerships and integrations to help unify customer touch points and keep pace with changes in the social landscape.
Tagger Media is a global leader in revolutionizing how top brands and agencies harness data and analytics to drive creator and influencer marketing strategies. Trusted by global enterprises, Tagger is a disruptive SaaS solution that offers unparalleled expertise. Leveraging API partnerships with major social channels, Tagger connects millions of brand and influencer profiles to billions of social data points, offering the industry's most robust social intelligence and actionable insights. Tagger's platform provides powerful analytics, all-in-one capabilities, and strategic integrations for efficient campaign workflows.
B2RLaw's Commercial team has worked alongside US firm Cooley LLC in providing Sprout Social with seamless legal support throughout the acquisition process. The firm's multidisciplinary team of a dozen lawyers supported Sprout Social in a wide range of sector-specific matters, that included, among other, comprehensive advice on the Polish legal aspects of the transaction, especially in areas such as: IP, employment, corporate, compliance and tax.
The B2RLaw team was led by Partner Roman Iwański (Advocate) and included: Paulina Wyrostek (Counsel, Attorney-at-Law), Malwina Niczke-Chmura (Counsel, Advocate), Aleksander Łożykowski (of Counsel, Attorney-at-Law, Tax Advisor), Paulina Milewska-Mróz (Senior Associate, Advocate), Martyna Szpakowska (Associate, Advocate), Danyila Zubach (Junior Associate, Advocate), Bogusław Długowolski (Junior Associate, Trainee Attorney-at-law), Eryk Czajkowski (Junior Associate), Julia Stroińska (Junior Associate).
Partner Roman Iwański advises, "We were thrilled to have been entrusted by Sprout Social on this transaction and greatly valued the support from Cooley. Our commercial team worked around the clock to ensure timely closing. This engagement is a testament to B2RLaw's strength in the IP and tech space. IP related to social media is a burgeoning legal sector. From miniscule over a decade ago, the social media market is experiencing exponential growth. Its current value estimated at USD 230 billion is expected to double in size by the end of this decade."